International recruitment was the beginning of a new life: "Fortunately I got off to an easy start"
 22.9.2022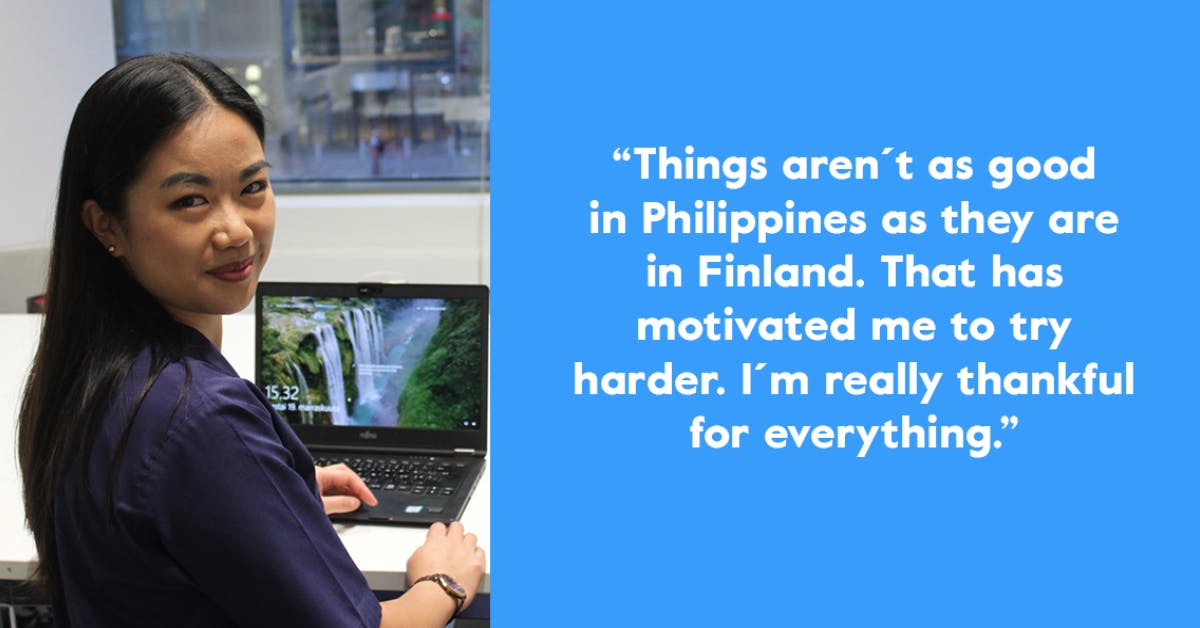 Shielou Gomeyac is full of energy and good mood. Although many deem shift work in nursing challenging, Philippines-born Shielou gets energy from her work. She admits she's in her dream profession.
- All of my relatives who live abroad are nurses, and I've always been encouraged to take up nursing. I've seen how working as a nurse abroad opens doors to a better life, she tells.
However, she never imagined ending up in Finland.
- I was working at a local hospital as an operating room nurse, when a colleague told me about international recruitment for nurses. I had considered going to Australia or the US, and I had never even heard of Finland, she says laughingly.
The opportunities offered by Opteam seemed attractive, because working abroad could offer better living standards and interesting jobs. Opteam became part of Barona in 2017.
- For my challenging job as an operating room nurse, I was paid about 200 euros per month. It's far too little and it was impossible to make ends meet, she recalls.
"Promises were kept"
Having worked as a nurse before, Shielou wasn't baffled by working as a practical nurse in Finland.
- I was told that it would be possible to pursue further education in Finland, she tells.
The interview took place in Manila, eight hours from her hometown. Shielou spent an entire day travelling to the interview; but it was worth it, as after the interview she received a phone call and was told she had been chosen.
However, first she would need to attend a five-month Finnish course, where the future nurses would be taught the basics of Finnish.
- We already knew at the time that Finnish is one of the most difficult languages in the world, but it was also a positive challenge. I had a great group and a good teacher.
The best part, in Shielou's view, was that things were printed on paper and promises were really kept. On top of this, leaving for Finland was affordable, because the only expense was the flight.
- I've heard stories about how promises of a job abroad have turned out to be unpaid or scams. Those cases are really unfortunate.
Towards a new life in Finland
Shielou arrived in Finland together with her group in October 2012. She was given an apartment in Koivukylä, Vantaa, with good connections to her future workplace in a mental health care home in Lassila, Helsinki.
- We were looked after immediately after arrival. Everything we could need for the first few months had been taken care of, she tells.
The future practical nurses were employed through an apprenticeship, and the eight-month training programme provided an easy start to the job and new home country.
- Although there was plenty of training to go through, I think it gave us an opportunity to get to know the job undisturbed. I was also able to learn the language in a safe environment.
At first, Shielou felt quite overwhelmed.
- Because of the language barrier, the job felt difficult, and sometimes mental health patients were aggressive. Even so, I never felt like I wanted to go back.
Working as a practical nurse turned out to be very different to working in the operating room.
- As a nurse I'm used to dealing directly with symptoms, but the new job was like social care. However, my colleagues were lovely and supportive.
- We were never left to our own devices, but people kept in contact with us throughout the apprenticeship, which was really lovely. Even quiet Finns turned out to be really nice when you got to know them, Shielou says and laughs.
Dreams came true in Finland
Now Shielou works in her dream profession as an operating room nurse in Jorvi hospital. She holds Finnish citizenship and has a boyfriend as well as a nursing degree.
- I worked at the mental health care home for five years, and then further training came to mind. I started studying at Laurea in English and graduated as a nurse.
Shielou doesn't wish to return to the Philippines. Now she's got everything she needs – and even a bit more.
- Things aren't as good in the Philippines as they are in Finland. That has motivated me to try harder. I'm really thankful for everything I've been given, she describes.
She has only good things to say about the recruitment as a whole; and she believes that a thorough training and further education have been the key to how well she has adjusted.
- I have coworkers who have come to Finland to work as nurses without training, and they've had trouble with the demands of the job as well as the Finnish language. I think my route was much better, as I was given an easy start, she concludes.