Bern, 34, came to Finland to work as a nurse: "I've always seen myself living abroad permanently"
 22.9.2022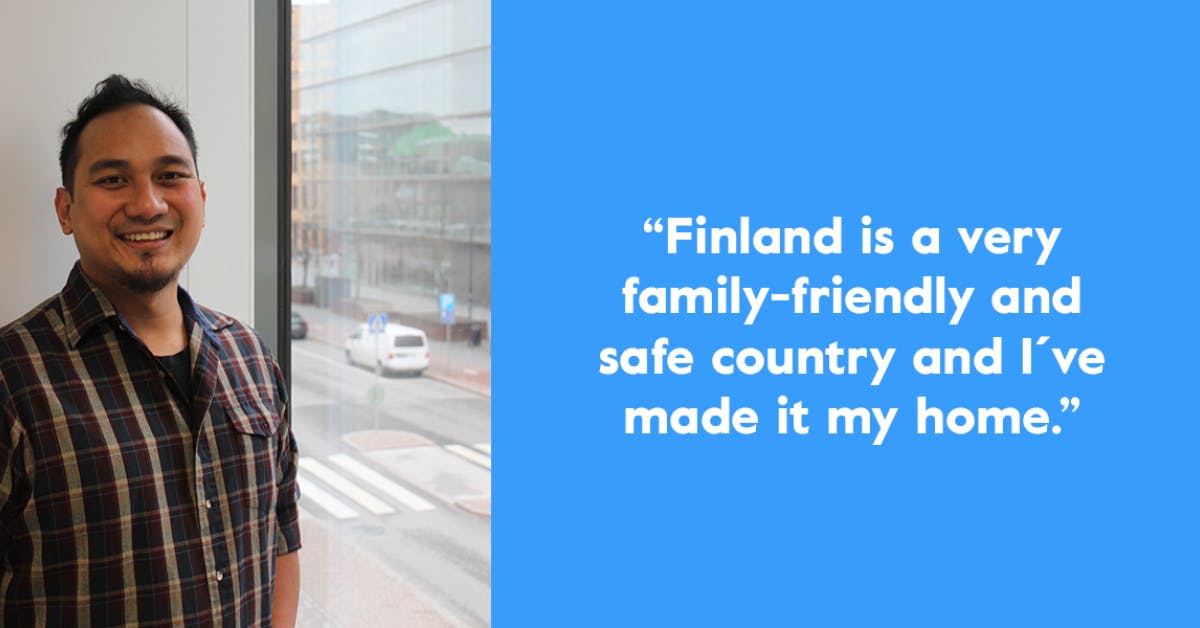 Philippines-born Bern Amar, 34, pursued a career in nursing initially because he saw it as a way to see the world.
- I have always seen myself permanently living somewhere else. I had spent five years working at a local hospital when I started to really consider what to do with my life, and I wanted to go elsewhere, he tells.
The opportunity presented itself by surprise in  2012, when Opteam was recruiting nurses. Opteam became part of Barona in 2017.
- A friend told me that nurses are being recruited from the Philippines to Finland to work as practical nurses. I didn't even know where Finland was, but I was intrigued. Mostly I was wondering if there'll be snow, he tells laughingly.
Bern was interviewed in Manila, and he also attended an orientation event.
I had previously applied for jobs abroad, but never successfully, because there was always something missing in my training. That's why this quick process to get into practical nursing felt good.
The future nurses took part in a five-month language training in Manila, where they were also thoroughly introduced to Finnish culture.
After the language course I felt like we're ready to leave for Finland. Of course, when we arrived in Finland, we quickly noticed how different written Finnish is to its spoken version, he says and laughs.
"We were helped in everything"
Bern arrived in Finland in a group of 20 in autumn 2012. Everyone was nervous.
- Finland is so different to the Philippines. No one started to regret their decision, although it was dark and cold and no one had the right kind of clothes, he describes their arrival.
Opteam was there to help from the very beginning and had organised an apartment for everyone.
- At first we were lost, but fortunately each of us was appointed someone who helped us with practical things like the bank, the magistrate, public transport and grocery stores. We could always call them should problems arise.
Apprenticeship as a way to working life
The nurses who come to Finland through international recruitment attend an eight-month apprenticeship programme, after which they can work as practical nurses. Bern, too, started the training right away at a mental health and substance abuse unit in Korso, Vantaa.
- On my first day, I obviously got lost and made it to work an hour late, he recalls.
Initially the language barrier and the new culture felt overwhelming, but little by little Bern was able to master the job.
- At first it was really difficult, because I couldn't speak the language properly, but my coworkers were super nice and helped me out a lot. Even so, the days felt really long, with new challenges to tackle every day.
The job grew on him; and Bern was positively surprised by how employees are appreciated in Finland in comparison to the Philippines.
- In the Philippines, workers aren't as respected and the boss is always right. The culture is very hierarchical compared to that of Finland.
A permanent home and family in Finland
Bern worked at the same place for seven years, before he took up a job as a coordinator at Koti-Medi. In 2020, he graduated as a nurse through a training programme.
- I worked in nursing in the Philippines for many years and it was my first love. Now I feel like I belong in this job, he describes.
Bern doesn't long to return to the Philippines. He now has a Finnish citizenship, a wife as well as a 3-year-old and a 5-year-old. The family lives happily in Vantaa.
- I can't even imagine going back to the Philippines, even though I am forever grateful to my home country and it'll always be close to my heart. I've started a family here, Finland is a very family-friendly and safe country, and I've made it my home.
Eight years later, Bern is still very pleased with his recruitment.
- I have friends who work abroad, and their experiences are very different. Some of them have immediately returned to the Philippines. I've never felt like that, because everything has been organised so well, he concludes.